The Durham Region ranked No.21 in the annual MoneySense report of the TOP 35 Cities To Buy Real Estate in Canada In 2019!
In Durham, Bowmanville was ranked the top neighbourhood to buy in 2019 with two Oshawa neighbourhoods making the list as well.
Bowmanville is thriving with new development boosting its employment and in terms of housing it offers several affordable options for first-time homebuyers.
In recent years, Toyota Canada announced plans to open a new parts distribution site, which really helped to boost Bowmanville's employment. Meanwhile, Toyota is committed to creating a new nature trail, which will be known as the Toyota Trail, connecting Soper Creek Trail to the new car parts plant, which is scheduled to open this year.
In terms of housing, Bowmanville offers exceptional deals for first-time buyers in the Greater Toronto Area. While it's a bit pricier than surrounding communities—primarily because of how connected it is to current employment opportunities—it is almost 40% cheaper than the average house price in the GTA, and about 7% cheaper than the average house price in Clarington.
Market Update For The Durham Region
There was a reported 1,176 residential transactions in May 2019 – the most transactions to be reported so far this year.
This shows an increase of 37 per cent over the 859 residential transactions reported this time last year.
The number of new listings increased by 20 per cent from 1,993 in April of this year to 2,392 in May.
This shows an increase of 6.45 per cent over last years figure.
The average selling price in Durham Region was $622,292 in May 2019
This is up slightly from the same time last year.
After a slower start to 2019, it appears the market is experiencing a positive shift. We are now in the summer market which is typically a busier time of year for real estate and the numbers reported this month are reflecting a healthy Durham market. The average days on market was 19 in May – DRAR President Tina Sorichetti.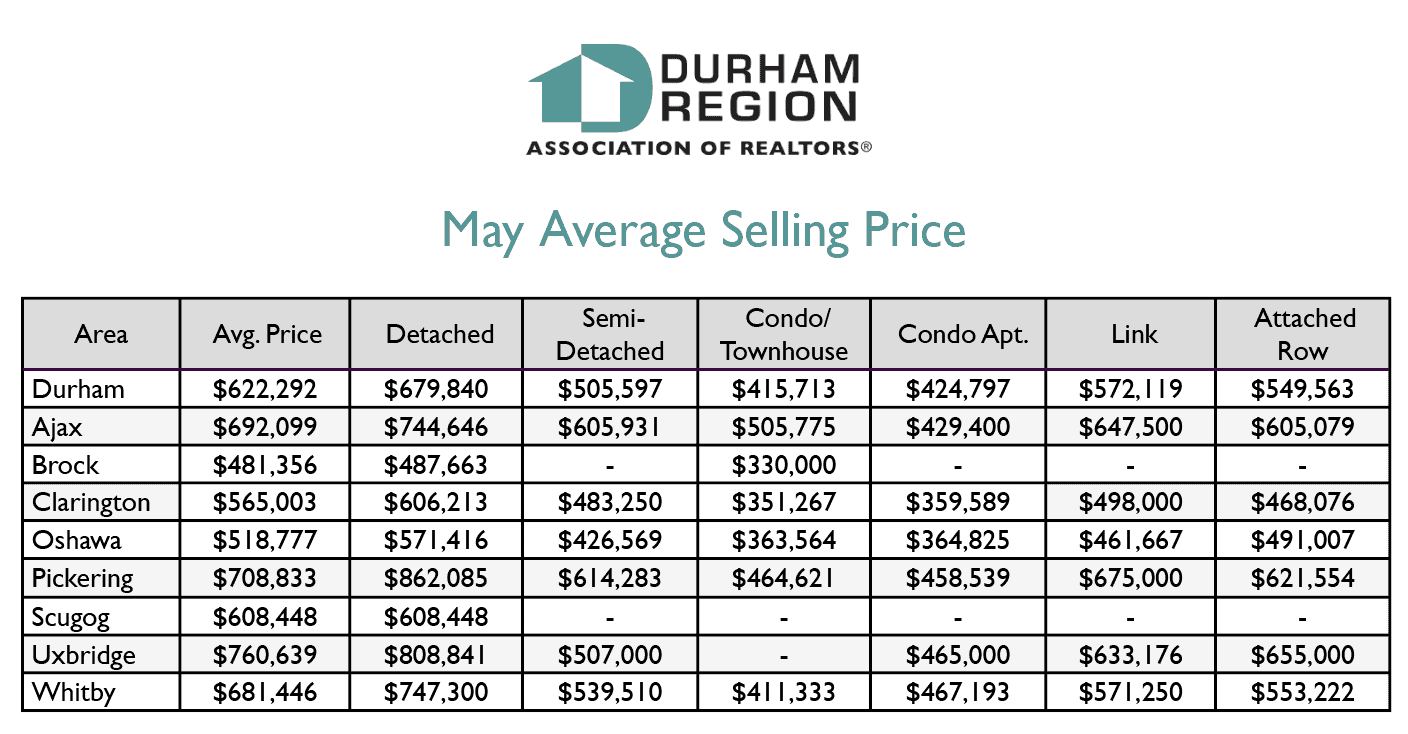 Thinking of buying or selling? Reach out to us today for a free market evaluation of your home.
The Michael Baird Team, Royal LePage Baird Real Estate