THE BASICS
Bowmanville Homes for Sale

Average Home Price: $763,000.

With new subdivisions mixed with old heritage homes and a historic downtown, Bowmanville is one unique community. Bowmanville is nestled just north of highway 401, west of highway 115, and south of the new highway 407 extension. It has a small town feel, but is highly connected to transit for quick access to all major routes. Grocery chains, big box stores, and plenty of dining options—you'll find it all in this convenient suburban community, while north of Bowmanville are large swaths of green space and conservation areas. Bowmanville in part of the Municipality of Clarington, which is the largest single municipality in Durham Region with a total area of 611.3 square kilometres.
Most Affordable Communities
When it comes to Bowmanville real estate, there's something for everyone. A unique part of Bowmanville is the historic downtown with century homes situated on quiet tree lined streets. If you're looking for a condo, you are in luck as there are several condominium developments in the area, mostly along Aspen Springs Drive. Bowmanville is also a great option for first time home buyers and young people starting families – it has been rated one of the most affordable communities in the GTA.
Offering Upscale Homes
Just outside the boundaries of Bowmanville are the smaller hamlets of Maple Grove, Tyrone, Hampton and Enniskillen – offering upscale homes with generous lot sizes. When browsing for Bowmanville real estate listings, remember that real estate in these towns will provide you with the chance to find a place to live that's relaxing and equally able to provide you with a sustainable future.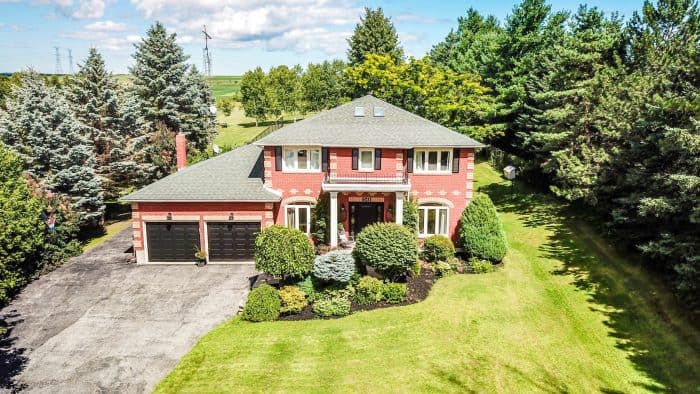 GETTING AROUND TOWN
Bowmanville real estate is in high demand, but homes for sale in Bowmanville are about to get even more desirable. A GO Transit train station is to be built by Metrolinx in the community of Bowmanville by 2024. This new Go train station will become a transit hub for Durham Region, and will make travelling into Toronto much easier. Currently, Durham Region Transit and GO Transit operate local bus services and direct access to Oshawa GO Station, but access to a car is almost necessary. However, traffic in Bowmanville is never too bad, due to it lying east of Pickering, Ajax, Whitby, and Oshawa. It is serviced with multiple highways in each direction - 401 to the south, 407 to the north, 115 to the east, and 418 to the west.
LOCAL FAVOURITES
If you're looking for a romantic date night, or are just a foodie fanatic, The Baird Team recommends Three Six Kitchen & Lounge. Located in the historic Downtown Bowmanville, this restaurant sources local ingredients to create truly exceptional and unique dishes. Across the street is Norms' Delicatessen - or more simply, Norm's. Thisfamily run eatery serves all things Polish food. You won't find better perogies or schnitzel any where else, and you better get there early because they sell out fast!  If you're in the mood for a craft beer, Manantler Craft Brewing Company prides themselves on brewing great tasting beer with high quality ingredients from around the world. Finally, Enniskillen General Store is one of Canada's Oldest General Stores. Serving the community since 1840, they offer endless flavours of Kawartha Dairy Ice Cream, honey, bath bombs, unique home décor items, cottage décor, unique drinks, candies and more.
For more guidance on the Bowmanville real estate market
Contact one of top Bowmanville real estate agents now - The Baird Real Estate Team
Baird Real Estate Client Testimonials
TESTIMONIALS
We lost our Mom a year ago and Michael was the reality that sold the house to her. Michael and his Son Paul and Craig are absolutely all genuine and loved helping us through it all, a design team that was able to tackle all our needs, including Painting, Carpet, lighting, switches devices, countertops, door knobs and kitchen cabinet hardware, I swear when they finished I thought it was a brand new Home , they then put it on the Market , the offers just kept coming , they worked with us from many miles apart, and made it possible for us to sign contracts online and they always explained everything and the house sold so fast we couldn't believe it. These guys are the real thing they are seasoned professionals, they know what it takes and how to do it , and they all have a great smile and that means so much to us very trustworthy and just need to say thank you so much Michael, Paul, Craig Your the best.

Michael showed up at my door this past fall in september 2019. He was selling my neighbors home (which he sold in under a month). I was really apprehensive because he had been the third realtor who had come to my home to offer services. At the time I knew I needed to sell but I wasn't ready. But he was patient and very kind about it. 2 months later I took a chance and contacted him and his team. He and Paul (his son) showed up that night (November 4) and instantly felt supported and helped. They helped with the Reno's, negotiating a new dishwasher, moving boxes and removing the junk out of my home. They painted, fixed the walls, cleaned and photographed all under one week. The house was ready by December 16 2019. Under the advice of Michael, We listed my home on january 6 and it was sold by january 20 2020 due to their strong work ethic and ability to showcase a good product. The Baird team goes the bat for you. You will NOT be disappointed and I'm glad God led me to chose them. They really made me feel a part of the Baird team!

The only person to trust In Clarington with your home is Paul Baird. The knowledge and deep roots the Baird family has in Clarington make them the number 1 choice. Paul's calm and educated approach both on a buying and selling standpoint is the best! When it comes to negotiating he's the best to have in your corner. would give them a 5000-star review if I could!

What a great experience working with these wonderful gentlemen!

We were really impressed with Michael and Paul. They made the process of finding a house as stress free as possible and helped us to find the perfect home ?Would definitely recommend them.

Professional, generous and a man who values family, friends & customers.. He is a pleasure to work with!

To everyone who is looking for an honest and genuine real estate agent, Michael Baird is your man.Last year we were so lucky to be introduced to him. He helped us to get our dream home.The experience from start to finish was seamless and enjoyable. I recommend Michael to everyone for peace of mind.Michael, thank you again for everything.

It was an absolute pleasure to work with Michael and his son Paul.
Within minutes of meeting them I knew they were the right real estate agents for my family.
They made the entire experience of purchasing a new home a complete pleasure and I had complete trust that they had our best interests in mind.
I would recommend them to anyone in need of an agent and will work with them again when my family is ready to move again.

We have bought two new homes from Michael Baird and sold four homes with Michael. We have had very good results with Michael and his team. He has been very helpful with the listing and selling of my mothers' home, my aunt's home and my mother and father-in-laws home. We would recommend him and his team to anyone.