PROPERTIES
Average Home Price: approx $700,000. Located just east of Oshawa, Courtice is conveniently situated to all main amenities while rolling countryside and farmland are just minutes away. Courtice in part of the Municipality of Clarington, which is the largest single municipality in Durham Region with a total area of 611.3 square kilometres. It is partially a bedroom community with many residents commuting west into other cities in Durham Region and Toronto. The Courtice real estate market is booming, because of its affordability, lower taxes, and proximity to employment for commuters.
Home to Families
When it comes to homes for sale in Courtice, single-family detached homes dominate. Courtice is primarily home to families, and it's easy to see why. This area is very much a family oriented community, where middle-class residents are happy to settle down. Being part of a large municipality spread over many hundreds of square kilometres, residential homes and lots tend to be generous in size, which is evident when searching for Courtice real estate listings.
Moving Into The Area
There are very few apartment buildings that are 5 stories or higher. Recent housing developments have seen more semi-detached and row houses built. These higher density developments are able to accommodate the surge in people moving into the area. Just north of Courtice are the smaller hamlets of Mitchells Corners and Solina.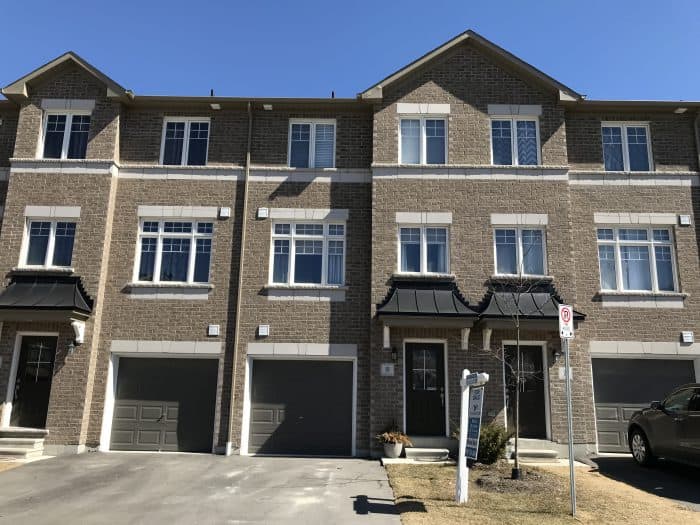 GETTING AROUND TOWN
Courtice real estate has a lot to offer for commuters, including quick access to the main highways: 401, 407 and 418. While there is currently no train access, a GO Transit train station is to be built by Metrolinx in the community of Courtice by 2024. This new GO train station will be located near the 401 corridor on Courtice Road, and will provide even better access to the rest of the GTA. To drive to one of the western suburbs of Durham Region, it should take between 25 and 40 minutes to get there. The drive to Toronto is approximately 1 hour.
LOCAL FAVORITES
The Baird Team spends a lot of time in Courtice - it's where our office, Royal LePage Baird Real Estate, is located! One of our favourite restaurants is The Courtyard Bar and Grill. Well known in Courtice for their large patio and covered veranda, The Courtyard is a great place to be to relax on a summer's day. For Thai-centric and Caribbean food with set-price meals & weekend dim sum - head over to Thai Hot Spot. If you're looking for a great tasting cup of coffee, check out Deadly Grounds Cafe and Curiosities. It's is a local coffee shop with a twist - a horror themed gourmet coffee roaster and cafe. Finally, on a nice summer day, The Baird Team likes to get out and do a quick round of golf at our local course - Pebblestone Golf Course.
For more guidance on the Courtice real estate market
Contact one of top Courtice real estate agents now - The Baird Real Estate Team.
Baird Real Estate Client Testimonials
TESTIMONIALS
We lost our Mom a year ago and Michael was the reality that sold the house to her. Michael and his Son Paul and Craig are absolutely all genuine and loved helping us through it all, a design team that was able to tackle all our needs, including Painting, Carpet, lighting, switches devices, countertops, door knobs and kitchen cabinet hardware, I swear when they finished I thought it was a brand new Home , they then put it on the Market , the offers just kept coming , they worked with us from many miles apart, and made it possible for us to sign contracts online and they always explained everything and the house sold so fast we couldn't believe it. These guys are the real thing they are seasoned professionals, they know what it takes and how to do it , and they all have a great smile and that means so much to us very trustworthy and just need to say thank you so much Michael, Paul, Craig Your the best.

Michael showed up at my door this past fall in september 2019. He was selling my neighbors home (which he sold in under a month). I was really apprehensive because he had been the third realtor who had come to my home to offer services. At the time I knew I needed to sell but I wasn't ready. But he was patient and very kind about it. 2 months later I took a chance and contacted him and his team. He and Paul (his son) showed up that night (November 4) and instantly felt supported and helped. They helped with the Reno's, negotiating a new dishwasher, moving boxes and removing the junk out of my home. They painted, fixed the walls, cleaned and photographed all under one week. The house was ready by December 16 2019. Under the advice of Michael, We listed my home on january 6 and it was sold by january 20 2020 due to their strong work ethic and ability to showcase a good product. The Baird team goes the bat for you. You will NOT be disappointed and I'm glad God led me to chose them. They really made me feel a part of the Baird team!

The only person to trust In Clarington with your home is Paul Baird. The knowledge and deep roots the Baird family has in Clarington make them the number 1 choice. Paul's calm and educated approach both on a buying and selling standpoint is the best! When it comes to negotiating he's the best to have in your corner. would give them a 5000-star review if I could!

What a great experience working with these wonderful gentlemen!

We were really impressed with Michael and Paul. They made the process of finding a house as stress free as possible and helped us to find the perfect home ?Would definitely recommend them.

Professional, generous and a man who values family, friends & customers.. He is a pleasure to work with!

To everyone who is looking for an honest and genuine real estate agent, Michael Baird is your man.Last year we were so lucky to be introduced to him. He helped us to get our dream home.The experience from start to finish was seamless and enjoyable. I recommend Michael to everyone for peace of mind.Michael, thank you again for everything.

It was an absolute pleasure to work with Michael and his son Paul.
Within minutes of meeting them I knew they were the right real estate agents for my family.
They made the entire experience of purchasing a new home a complete pleasure and I had complete trust that they had our best interests in mind.
I would recommend them to anyone in need of an agent and will work with them again when my family is ready to move again.

We have bought two new homes from Michael Baird and sold four homes with Michael. We have had very good results with Michael and his team. He has been very helpful with the listing and selling of my mothers' home, my aunt's home and my mother and father-in-laws home. We would recommend him and his team to anyone.